A couple of years ago I was asked to do an illustration for a client. It was to be a comic book cover style illustration of a character his son created. As the drawing was done digitally, we decided to make t-shirts from some of the individual characters appearing in the composition. This cheetah man is one of the main hero's allies.
I kind of like how small the image is placed on the shirt. It almost sort of gets lost.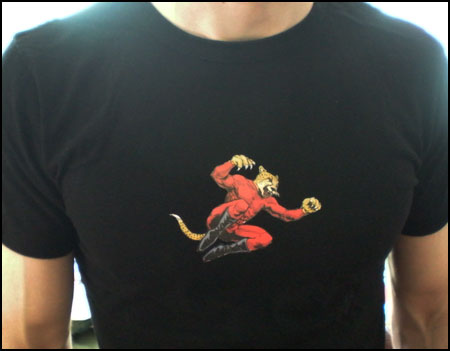 This is a color digital transfer that I printed on my Epson 260 Sylus Photo and ironed onto a pretty soft tee from H&M. The color transfers appear more vivid than the regular ones, and hold up better in the wash. Of course they're more expensive, so it only makes sense to get them if you want to print onto a colored shirt. I may some day do a similar design of an anapomorphic cat super hero type character for the Donkeyshines line. Of course it can't be a cheetah or that kid might sue me!