Donkeyshines currently has only one t-shirt design featuring an actual donkey. That design is the Donkey Pegasus, and during the week of April 5-12, you can get it for $16.99.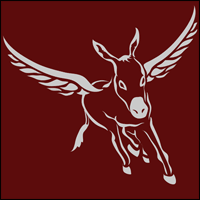 This design is actually based on an old drawing I used on a t-shirt for a silly joke band I was in, called The Ass. The music is  hard to listen to for anyone who actually wasn't in the band, but the songs had amusing lyrics. We would sing about movies that we happen to have watched recently that nobody really cared about, such as Untamed Heart (Marisa Tomei and Christian Slater) and A Perfect World (Kevin Costner and Clint Eastwood). We also drew inspiration from nostalgia such as in our G.I. Joe-themed love ballot, Destro and the Barroness.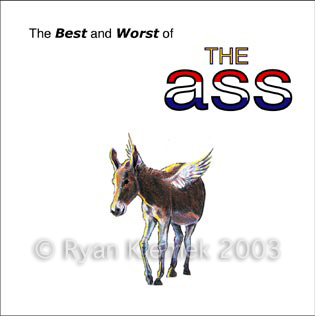 The original drawing was done in 1994 for our T-shirt. The medium used was colored pencil, and the shirts were made using heat press iron-on transfers. At the time, only 3 were made- one for each band member. Later, I tried to sell the design on merchendise through Cafe Press, but I was the only person who ever bought any of it. I re-used the drawing on the album cover for our 2003 compilation CD, as seen above. I think only 4 copies of that were ever made, since the band had 4 members by then. I currently use the drawing on the Donkeyshines home page.