So after taking many more months than I expected to complete the Black Cats painting, I suddenly find myself confronted with my least favorite season: The fall. Where did summer go? Perhaps it seemed short because June  behaved like April. Many people I know are glad to see the blistering days of August go, and are looking forward to the mild temperatures and the changing of the leaves. I'm not exactly sure why it is that I can't get on board with this.  As a cyclist, I prefer the extreme heat of summer to the wind and rain of the fall, but it isn't just about the weather. Or the shrinking of daylight. For me there's also this conditioned emotional response to the coming of September, which I associate with the beginning of the school year. Now, I have not been a student for many years, but as the crickets began to chirp in mid-August, I still get that feeling of anxiety that comes with vanishing freedom. When you are in school, summer is about freedom and fall is about the end of that freedom. Of course there was also excitement, triggered by the purchase of new school clothes, and an attempt at a fresh start. There may be new pretty girls in your class, or at least ones that don't remember how dorky you were last year. They won't recognize you with your new carpenter jeans rolled up to your ankle, and your carefully blow-dried and gelled mullet. Anyway, now that I am happily married, the nostalgia of the "new hot girl possibilities" has vanished, but for some reason the anxiety of the "end of freedom" still lingers.
Usually, I just sort of suffer through the fall, but this year I decided to give myself reasons to look forward to it. As a guy who loves to design and wear t-shirts, I was always sad when summer ended and I had to cover them up with more layers. That is why I decided to make my own layers! Just yesterday, I finally put it that order for Robot Penguin hoodies. I thought this design worked well on a full zip sweatshirt, with each penguin on one side of the zipper. They tell me that these could be ready within a week and a half, but they could take a bit longer. I'm printing on Independent Trading Co blanks, and this is a new vendor for Printmojo. I won't mind too much if it takes two weeks or longer, I'll just be excited to get them!
Of course, when fall becomes winter, even a hoodie must hide under an insulated jacket. However, nothing has to cover up a toasty winter knit cap! That is why I am printing the Donkey Pegasus on a stylish, 100% acrylic hat. The garment with be black because black goes with everything, and stands out  against the snow. I'm going to use embroidery instead of screen printing, and I am trying to choose between metallic gold or silver thread.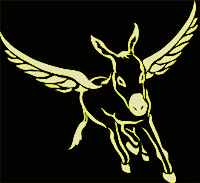 While the silver is more subtle, I was thinking it might be nice to go with gold this time. If you have a preference, tweet me your vote!
Tags: Donkey Pegasus knit cap, Independent Trading Co, Robot Penguin Hoodie