For years now, I have been wanting to make a t-shirt featuring a dodo bird. Finally, I came up with a design that I'm pretty excited about it.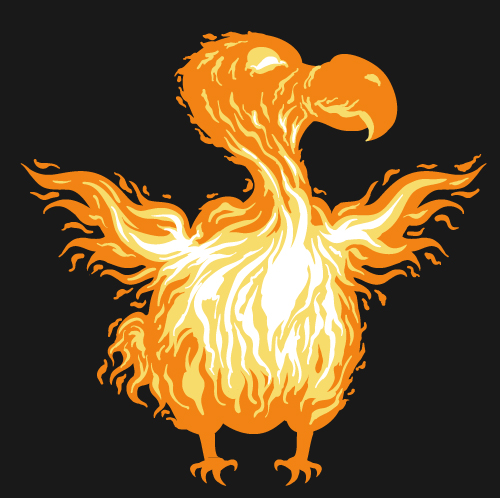 Dodos are usually thought of as dopy, stupid birds which became extinct due to how dopy and stupid they were. I always thought this was unfair, and I wanted to come up with a way to give them some dignity. Since the phoenix typically symbolizes rebirth , I thought it would be a fitting form in which to resurrect the dodo.
This is the first 3-color design I will ever have screen printed, and it is going to cost a bit more to produce. Especially since I plan to print it on Next Level Apparel tri-blend blanks. To pay for it, I am once again turning to crowd funding. My previous experience with Kickstarter was successful when I printed my Poison Dart Frog shirts, but there were some limitations with the process that have made me consider an alternative. Indiegogo was suggested to me by a friend, and it looks like there are some advantages with their system. For one thing, Kickstarter requires backers to pay through an Amazon sellers account. Setting this up was just annoying enough to deter my own parents from backing my project! Indiegogo allows backers to pay with either a credit card or Paypal, which is much easier. They also offer the option of partial project funding. This comes in handy if you end up just a few bucks short of your goal, but want to go ahead with the project anyway. Idealistically, I like some other things about Indiegogo as well. There is no application process and they allow pretty much any type of project. This seems more "starving artist-friendly". I am somewhat hesitant to abandon Kickstarter, however, as many of my friends are already a part of that community and are therefore more likely to back projects here. I'm leaning towards trying Indiegogo, but I haven't quite made up my mind. If anyone has any thoughts on the matter, please comment here. Especially if you have had experiences with Indiegogo you'd like to share. I am looking to launch my project as early as next Friday.